Query.
Explore.

Share.
Hue is an open source SQL Assistant for Databases & Data Warehouses
Try Hue Now

Write SQL like a pro
Hue brings the best Querying Experience with the most intelligent autocompletes, query sharing, result charting and download for any database. Enable more of your employees to level-up and perform self service analytics like Customer 360s .
Learn More »
Connect to all the databases
Pick one of the multiple interpreters for Apache Hive, Apache Impala, Presto and all the others too: MySQL, Apache Flink SQL, Oracle, SparkSQL, Apache Phoenix, ksqlDB, Elastic Search, Apache Druid, PostgreSQL, Redshift, BigQuery...
Learn More »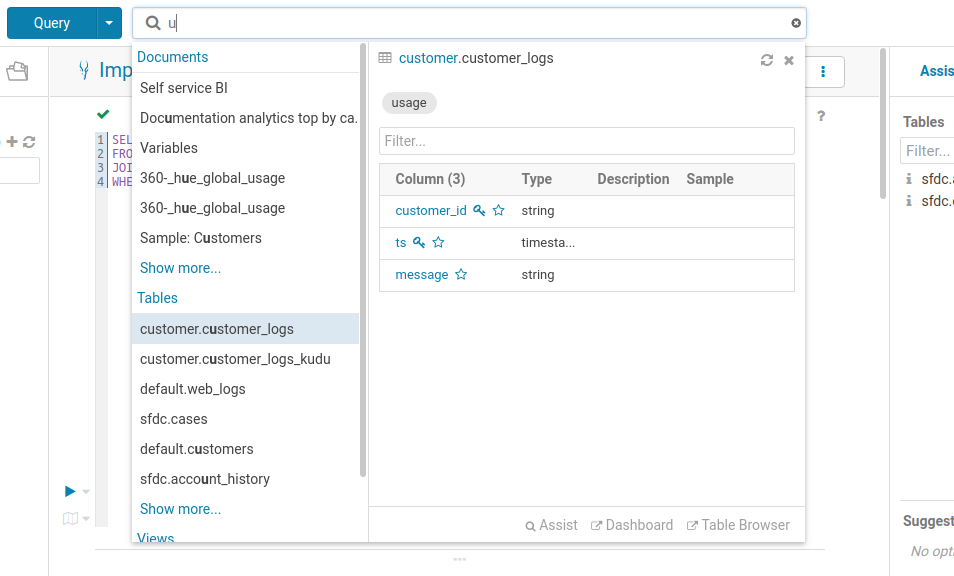 Find and connect your data
The tables and storage browsers leverage your existing Data Catalogs knowledge transparently. Help users find the correct data among thousands of databases and self document it.
Learn More »